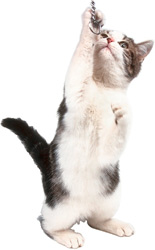 Community News
AMERICAN ELECTRIC POWER SUPPORTS THE
ANIMAL SHELTER
By Beverly
Belinda Stacey, Administrative Assistant at American Electric Power, shows some of the donations that the employees collected during the month of July in support of the "Shower the Shelter Month" Program. Each year they help provide support in many ways to our Animal Shelter. Thanks so much to everyone at American Electric Power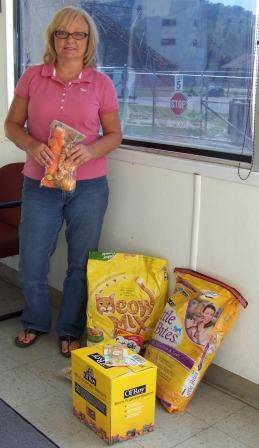 Belinda Stacey, Administrative Assistant at American Electric Power

CONTINUED LEGACY OF SUPPORT BY
THREE RIVERS MEDICAL CENTER
By Beverly

Once again the staff of Three Rivers Medical Center opened their hearts and came forward with a large collection of items as a result of their annual "Shower the Shelter Month" Program in August. These much needed items will go a long way in helping our Animal Shelter continue the valuable work they do on a daily basis for the homeless animals of our community.

First Annual Golf Scramble — What a Ball!!!!
By Beverly
A great big "Thank You" goes out to all our sponsors, participants, and volunteers for making our First Annual Golf Scramble a load of fun AND a huge success!!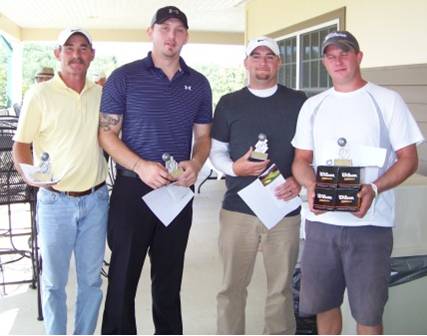 The 1st Place Team was comprised of players Michael Moore,
Shawn Johnson, Michael Fannon, David Scott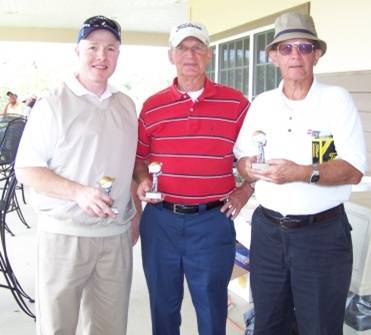 The 2nd Place Team from AEP was comprised of players W. D.
England, Jim Ratcliffe, James Patrick, Dan Burke
Other winners on the day were:
Longest Drive—Shawn Johnson
Closest to Pin—Jim Ratcliffe
Longest Putt—Steven Montgomery
Most Accurate—Steven Montgomery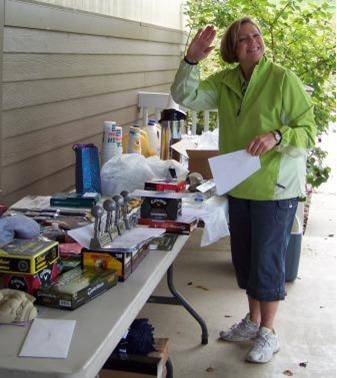 "Special Thanks" goes out to our volunteer coordinator
Sue Schutzberg! Job well done!!!!
Student Volunteers Give Time to Help Animal Shelter
By Beverly
On Saturday, November 12, seventeen members of Lawrence County High School's National Honor Society volunteered their time and effort to clean up the Lawrence County Humane Society Animal Shelter. Members of the Society made a pledge to be involved with community service when they were inducted, so they took time on Saturday to do just that. The cleanup here in Lawrence County was just one small part of National Animal Shelter Appreciation Day. Volunteers worked by raking leaves and cleaning out the doghouses. Overall, the cleanup was a huge success and a rewarding experience for everyone. (written by National Honor Society member Ryan Caudill)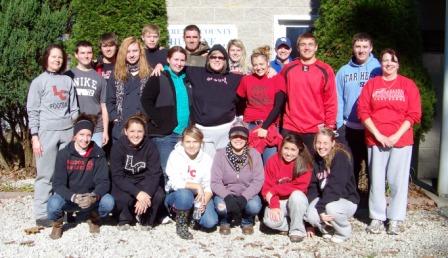 The Lawrence County Humane Society Board of Directors would like to send a personal thanks to each volunteer for their hard work and concern for the homeless animals in our care. We would also like to
thank Louisa Coca Cola Bottling Company, Brown's Foodservice, Peoples Security Bank, American
Electric Power, Angel Derifield, Shila Pack, Barbara Wallis, and Jane Branham for providing the food, beverages and supplies.
If you would like information on how you can volunteer at the LC Humane Society Animal Shelter,
please call the shelter at 606-673-4509

Goody's Department Store Holds "Shower" for Animal Shelter
By Beverly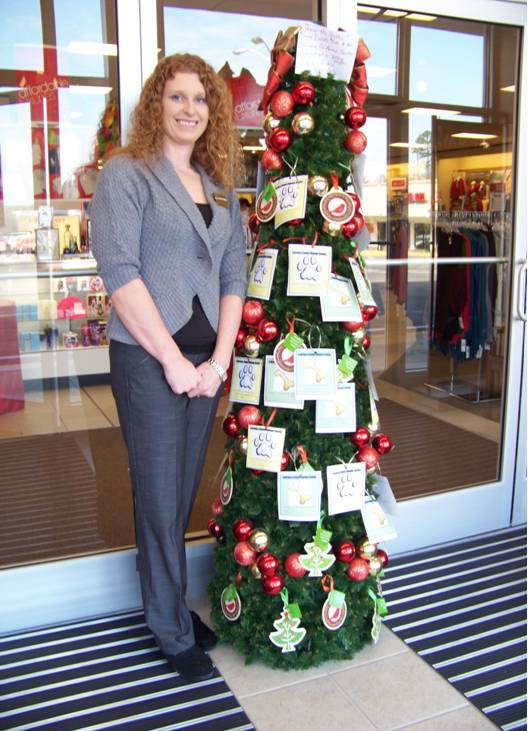 Heather Evans, the manager of our local Goody's, proudly stands beside the Angel Paws Christmas Tree the store sponsored during the months of November and December. They received donations in exchange for a discount coupon and a "Paw" to display on their Christmas tree. Customers were able to indicate the Paw was "In Memory Of" or "In Honor Of" a beloved pet. This wonderful fund drive helped raise $390.57!!! What a great job by all the employees and customers at the Louisa Goody's.
Thank You!

Students At Louisa Middle School Remember the Homeless Animals
By Beverly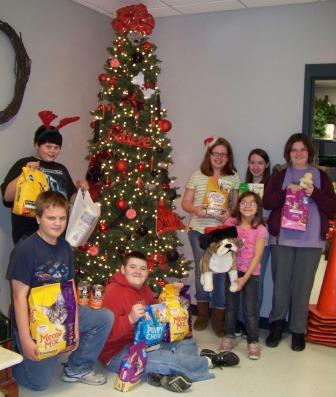 During the month of December students at Louisa Middle School took

time to remember the Shelter animals by donating much needed items,

such as food, treats, toys, and cleaning supplies. Thanks so much to

these young people for their caring hearts!!
Last Updated:
March 26, 2018
Design By:
Allen Kelly © All Rights Reserved, 2005 - 20118