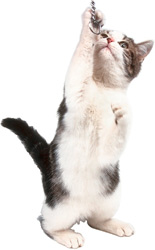 Adoption Contract
Lawrence County Humane Society Animal Shelter
PO Box 1331, 820 Isaac RD
Louisa, KY 41230

Phone: 606-673-4509

Card No._____________ Date of Adoption_________________
The Lawrence County Humane Society Animal Shelter is a mandatory spay/neuter shelter. Each new pet owner is required to read and sign this contract before a pet leaves the shelter. All animals must have been spayed/neutered before the animal leaves the shelter.
ALL ANIMALS ADOPTED MUST HAVE A FENCED YARD, KENNEL OR BE SMALL ENOUGH TO BE A HOUSE DOG. ALL ADOPTED CATS OR KITTENS MUST BE KEPT IN THE HOUSE.
FULL PAYMENT IS REQUIRED AT THE TIME OF ADOPTION.
Fees: _________________Dog____________Cat_________Total Due________
Any veterinary services or medications after adoption are at the expense of the new pet owner. If the adoption does not work out, the shelter requires the animal be returned to the shelter.
On receiving the above animal, I HEREBY AGREE to care for said animal in a humane manner (including food, water, shelter and veterinary care.) I agree to take the animal to a veterinarian within 48 hours of adoption to have the animal checked, and to get any additional vaccinations that maybe required.
I WILL NOT CHAIN OR TIE THIS ANIMAL UP. IT WILL HAVE A FENCED YARD OR KENNEL. SHOULD ANY OF THESE POLICIES BE VIOLATED BY ME THE HUMANE SOCIETY HAS THE RIGHT TO REMOVE THE ANIMAL FROM ME. MY CAT OR KTTEN WILL BE KEPT IN THE HOUSE.
I further agree that the animal I am adopting shall not be used for medical or experimental purposes. My Signature acknowledges that I have read and understand this document.
SIGNATURE-------------------------------------------------------------------------------------
Address_______________________________________________________
Telephone______________________________________________________
Shelter Personnel________________________________________________
The Adoption Fee does not include the rabies vaccination. Rabies vaccinations are required by law. The adoption fee also does not include a heart worm check for dogs and feline leukemia test for cats. These services are the expense of the new owner.
DISCLAIMER:
The animal that you are adopting is a stray. The Lawrence County Humane Society has no prior knowledge as to the health, temperament, eventual size, weight and background of the animal. The animal you are adopting will have been spayed or neutered. It will have had its first set of shots and been wormed. If you are adopting a puppy or kitten it will require booster shots given by your own veterinarian.
The Lawrence County Humane Society does not knowingly adopt out any sick animals. Should the animal that you have adopted become ill within one week of leaving the shelter, it may be brought back to the shelter. The Lawrence County Humane Society is not libel for any veterinary bills that are incurred should you decide to keep the animal and have it treated by a veterinarian.
By signing this document you acknowledge that you have read and understand the contents.
Signature_________________________________________________________
Date_____________________________________________________________
Date of spay or neuter_______________
Shots_____________________________
Wormed__________________________

Last Updated:
May 23, 2013
Design By:
Allen Kelly © All Rights Reserved, 2005 - 2013