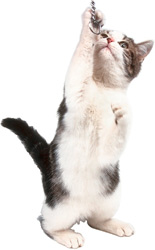 About
The Lawrence County Humane Society was incorporated in 1990 by a small group of people who were concerned about the ever-growing stray animal population in their community. A board of directors governs the Humane Society. The Board meets on a monthly basis to discuss policy, fund raising and other issues that may arise.
The animal shelter is under the supervision of the shelter supervisor and two shelter employees. The Humane Society and animal shelter staff work closely with the animal control officers from both Lawrence and Magoffin counties. These officers pick up stray animals, enforce county ordinances and address cruelty to animal complaints.

We strive to educate all age groups to promote humane attitudes and good treatment for all animals.
We work to reduce the over breeding of dogs and cats through public education programs and spay/neuter assistance programs. We are working toward a program of emergency assistance for members of the community unable to provide proper care and treatment for their pets.
Our Goals
Our goal is to provide information to the public concerning laws regulating ownership, care, and protection of animals and where necessary, assist in the prosecution for the violations of such laws.

Assisting governmental agencies in establishing shelters and effective and humane animal control programs that enhance public and animal welfare, such as the rabies clinics and licensing of animals.
We strive to develop fundraising activities to aid in the accomplishment of these goals.
Last Updated:
March 26, 2018
Design By:
Allen Kelly © All Rights Reserved, 2005 - 2018