Welcome to the Lawrence County Humane Society Animal Shelter

The Open Arms Animal Shelter now has a new "Adoption Application", you may download the Adoption Application in a PDF version by click here.
WE NEED HELP TO PAYING ON RIVER AND ASTROS VET BILL!

UPDATE! STILL STAND AT $162 donated so far!

Nothing received in 4 days! Please continue to share and donate if you can! Thank you!

We took in this boy River late last week. As you can see, he is severely emaciated. He spent the first few days being hospitalized at Tri County Animal Clinic getting fluids, testing, bloodwork, etc. He is now at our Open Arms Animal Shelter. He came with a large vet bill as well. We need to raise around $718 to cover his vet bill. He is doing better but recovery will take awhile. You can donate through our PayPal at lchshelter@hotmail.com, through mail at PO Box 1331, LOUISA Ky 41230, or by calling TCAC at 606-673-1344 or 1144 and saying paying towards the River the emaciated boxer on our account. Please specify however you pay that donation is for River the Boxer. As always, we thank you for your help! Please share!


WE NEED HELP TO PAY ASTROS VET BILL! $310 NEEDED!! PLEASE HELP IF YOU CAN!!

We got a call about this boy needing help in the Fallsburg area on a Sat eve. He had injuries to one side of his head. Of course we said yes! Upon taking him to the vet, it was determined he had an old injury to the side of his head from either blunt force trauma or hit by a car. He suffered no side effects other than to his eye. Recently, we had to make the decision to remove the eye as it was staying infected and irritated. The bill for the eye removal was $310 and we could use some help with it if anyone can find it in their heart to help. Donations can be made to PayPal at lchshelter@hotmail.com or mailed to the Lawrence County Humane Society at PO Box 1331, LOUISA Ky 41230. Please share and donate if you can! The first 3 pics show him after surgery and the last is when we first got him. Thanks as always.

Humphrey's House
Humphrey was the shelter dog for about 6 years until he passed away.

Wilson's House
Wilson was the first cat to come into the shelter 20 years ago when it opened.
The Open Arms Animal Shelter has a reclaim fee of $10.00 dollars per day starting
with the day the animal is brought in. All animals are vaccinated and wormed when they come in. Those costs will Need to be paid when the animal is reclaimed. On
the fifth day the animal becomes the Legal property of the animal shelter and
will have to be adopted back which means it will have to be spayed and or neutered plus any other expenses will need to be paid that have occurred.

Please make LC Humane Society your payroll deduction organization with United Way or Combined Federal Campaign.
For United Way write in Lawrence County Humane Society (Louisa, KY); for Combined Federal Campaign put #77458. Thank You!

LCHS Animal Shelter Newsletter



More Pet Resources and other Pet Information
Pet Health Insurance - complete with an interactive quiz to help determine whether or not to consider insuring your pet
Dog Food - Wet vs. Dry? What features matter most? This guide even has a Dangerous Foods infographic to show what may occur when your dog eats one of the top 10 most "dangerous" foods
Cat Food - Dr. Ken Tudor, expert in pet nutrition, has filmed several short videos all about selecting the best food for your feline
Please adopt a shelter pet. We have many dogs, puppies, cats and kittens that need loving
forever homes.

Our adoption fee includes the spay or neuter, vaccinations, rabies (if old enough), worming and in the case with cats, a pain shot. Our animals have been handled on a daily basis and are ready for a new home. Please come and spend some time with them.

The Lawrence County Humane Society is experiencing large bills this month and needs everyone's help to get through this tough time. We are here for the animals and for the Community. Please help if you can by sending a donation to the Lawrence Co Humane Society or by sponsoring the payment of one of our monthly bills. Every little bit helps.
The Lawrence County Humane Society Animal Shelter owned and operated by The Lawrence County Humane Society. Established 1995 for the purpose of preventing cruelty to animals, relieving suffering among animals, and extending humane education.
Use the Internet and Support the Lawrence County Humane Society Animal Shelter
If you use the internet to do searches, please use
www.GoodSearch.com
instead of the other search engines. For every search done, we will get a penny. And those pennies can add up! Just type in "Lawrence County Humane Society (Louisa, KY)" in the block that says "Who do you GoodSearch for?" and then click "Verify". Then start searching.
Also, if you do internet shopping please use
www.GoodShop.com
. This is a collaboration of hundreds of merchants who will give us a percentage of all your purchases if you shop through the GoodShop.com site to one of their participating merchants. Just click on the store's logo and then shop as you normally would! You get the exact same prices and service as if you went directly to the store's website.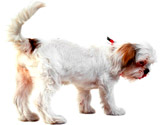 Lawrence County Kentucky Warden - Jessica Perry - 606-624-5070
Please call the Lawrence County Warden or the Lawrence County Judge Executives office with all stray animal complaints.